20 September 2023
MUFY Talent Quest 2023: A Gold Mine of Talents
The annual talent search competition, MUFY Talent Quest, returned to the Jeffrey Cheah Hall, with a bang after a hiatus due to the pandemic. It was the platform for many MUFY students to showcase their various talents and also hone their confidence and social skills. This activity also promotes and enhances student-lecturer communication, which in turn facilitates a better learning environment in the long run, as the lecturers' committee worked together with the MUFY Student Council in organising such a massive event.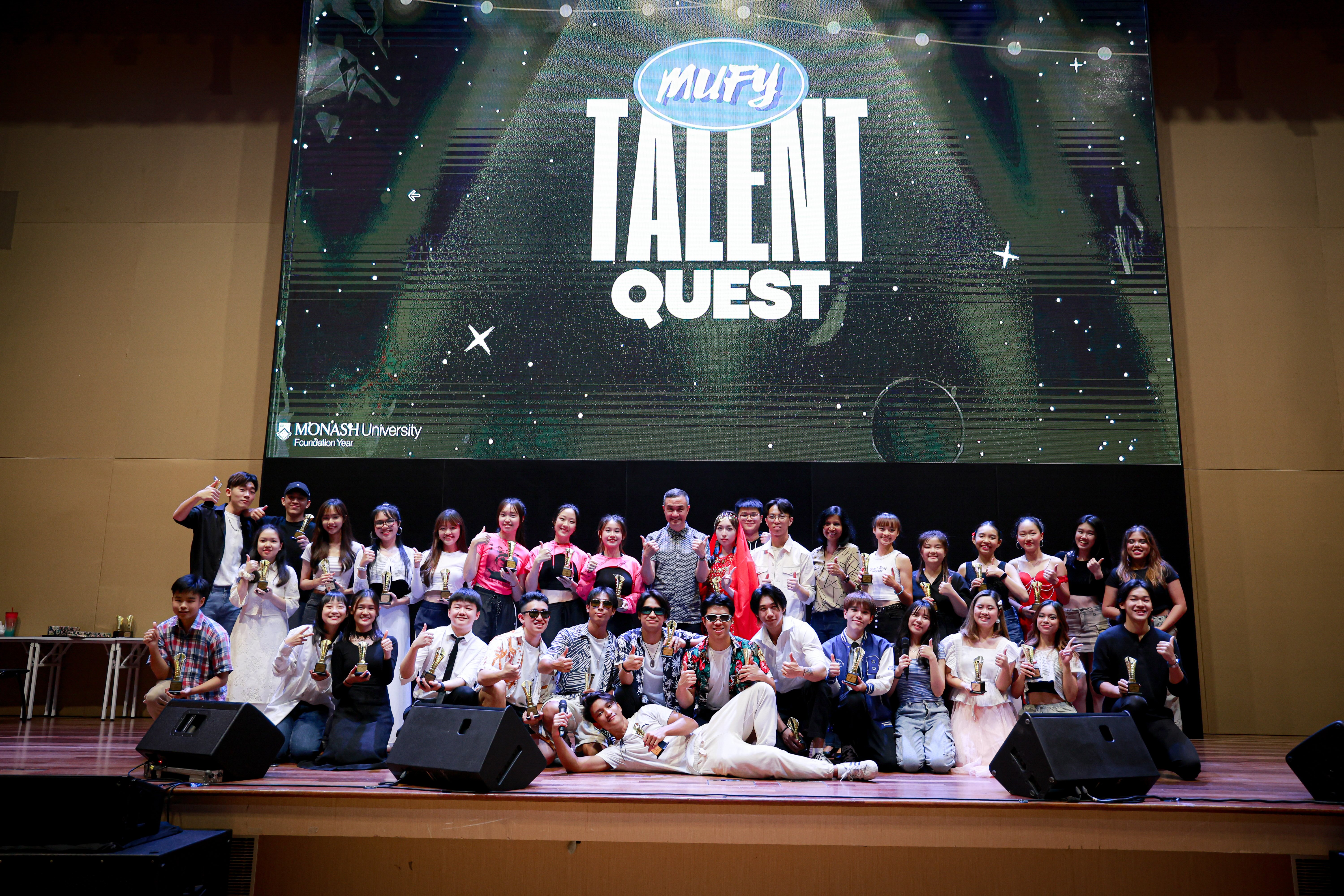 There were a total of 18 performances showcasing talents such as singing, dancing, instrument recitals, yo-yo and even mental math. The judges were none other than Mr Lee Thye Cheong, Director of MUFY and Ms Helen James, Deputy Director of MUFY. Two MUFY alumni, Mr Chee Min Hao and Mr Vincent Lai, from the Monash Music Club Committee were also invited to be part of the judging panel and they also gave a special performance. One of the big surprises of the evening was when Ms Helen James and Ms Angela Soyza took to stage singing "Top of the World" by the Carpenters.
The Champion of MUFY Talent Quest 2023 was Kayabuff, comprising of Ahmad Afzal Bin Ahmad, Ari Louis Jock, Chang Han Wynn, Cheah Kah Mun, Goh Ru Yi, Lee Jing Herng, Ngan Ka Hung, and Phang Yu Zhe. They performed a dance routine that was quirky and witty, yet dynamic and outstanding. The first runner-up was FIDA – dance duo Fedora Annabel Uneputty and Alya Karissa brought the house down with their street and hip hop routine, and second runner-up was dancer, Jesse Ling, with her Latin-inspired performance. All winners, respectively received a cash prize of RM300, RM200 and RM100.
This year, a special award titled "The People's Choice" gave the audience the chance to vote for their favourite performance of the evening. With a landslide win, Kayabuff, were awarded "The People's Choice" and received a cash prize worth RM100. It was definitely an evening to remember, celebrating the many wonderful talented individuals in MUFY. Congratulations to all MUFY Talent Quest 2023 winners and a BIG "Thank You" to all MUFY Staff in the committee, the MUFY Student Council and MUFY student volunteers for hosting a successful event.
Your pathway to a brighter future starts here!
Explore the wonders of Sunway College and experience what it means to belong to an elite circle of industry leaders.