JPT/BPP(K)(N/213/4/0371/PA14635)06/26
Achievements
INDUSTRY

Ready

Job Of The

FUTURE

(Current trend in digital marketing creates a high demand for Digital Content Creators)

VARIOUS

Discipline

(Mass Media, IT, Creative Content Creation, Multimedia, Marketing, Arts & Design)
Overview
DDCC
The first of its kind in Malaysia, Sunway College led the way in offering a Digital Creative Content programme that integrates areas of communication media studies, multimedia and digital creative content.
Programme Details
| | |
| --- | --- |
| Intakes | January, April and August |
| Duration | 2 Years |
| Assessments + Coursework: | Combination of exams and coursework |
Entry Requirements
Pre-existing qualification
Grade
SPM/O-Level
Pass with min. 3 credits
UEC
Pass with min. 3 Bs
Other Equivalent Qualifications

Pass in any qualification equivalent to Certificate (Level 3, MQF)
Must be accredited by MQA

English Language Requirement

*For International Students only

IELTS - Minimum Band 5.0 OR equivalent
Special Requirement

Pass a Portfolio review:

Please submit a minimum of 2 drawings:

Observational drawing
Imaginative drawing


Drawings and Visuals can be in any
genre and mediums:

Digital Design
Motion Graphic 2D/3D Animation
Video/ Film
Photography
Painting
Drawing
Illustration
Design Plans
Sculpture
Installation Art
Jewelry Design
Prints
Ceramics
Fashion Design
Textile Design
Any other medium


OR

Pass an interview
Choice of Subjects
Year 1
Students will learn the following subjects in the first year

Content Creation
Creative Thinking
Creative Content Writing
Creative Content Production
Visual Study
2D & Animation Principle
Production Visualisation
Animation Practice
History of Art
Basic Art and Design

Basic Drawing
Information Communication Technologies
Computer Graphic
Introduction to Computing
Graphic Communication
Professional Practice
Digital Video Production
Digital Photography
English for Digital Media
Year 2
Students will learn the following subjects in the second year

Live Streaming (SocMed) Project
Motion Graphics Design
Digital Audio and Sound Technology
Digital Graphic Design
Web Design & Interactivity

Audience Analysis for New Media
Contentpreneurship
Law for Creative Industry
Internship
MOHE General Studies
Students must pass these MOHE General Studies

For Local Students

Appreciation of Ethics and Civilisation
Bahasa Kebangsaan A (applicable to students who did not sit for SPM or did not obtain a Credit in SPM Bahasa Melayu) OR Creativity and Innovative Thinking Skills (for students who have a Credit in SPM Bahasa Melayu)
Community Service
Moral Education OR Islamic Studies OR Education for Sustainability Development

For International Students

Bahasa Melayu Komunikasi
Creativity & Innovative Thinking Skills
Community Service
Moral Education
Education for Sustainability Development
Progression Pathway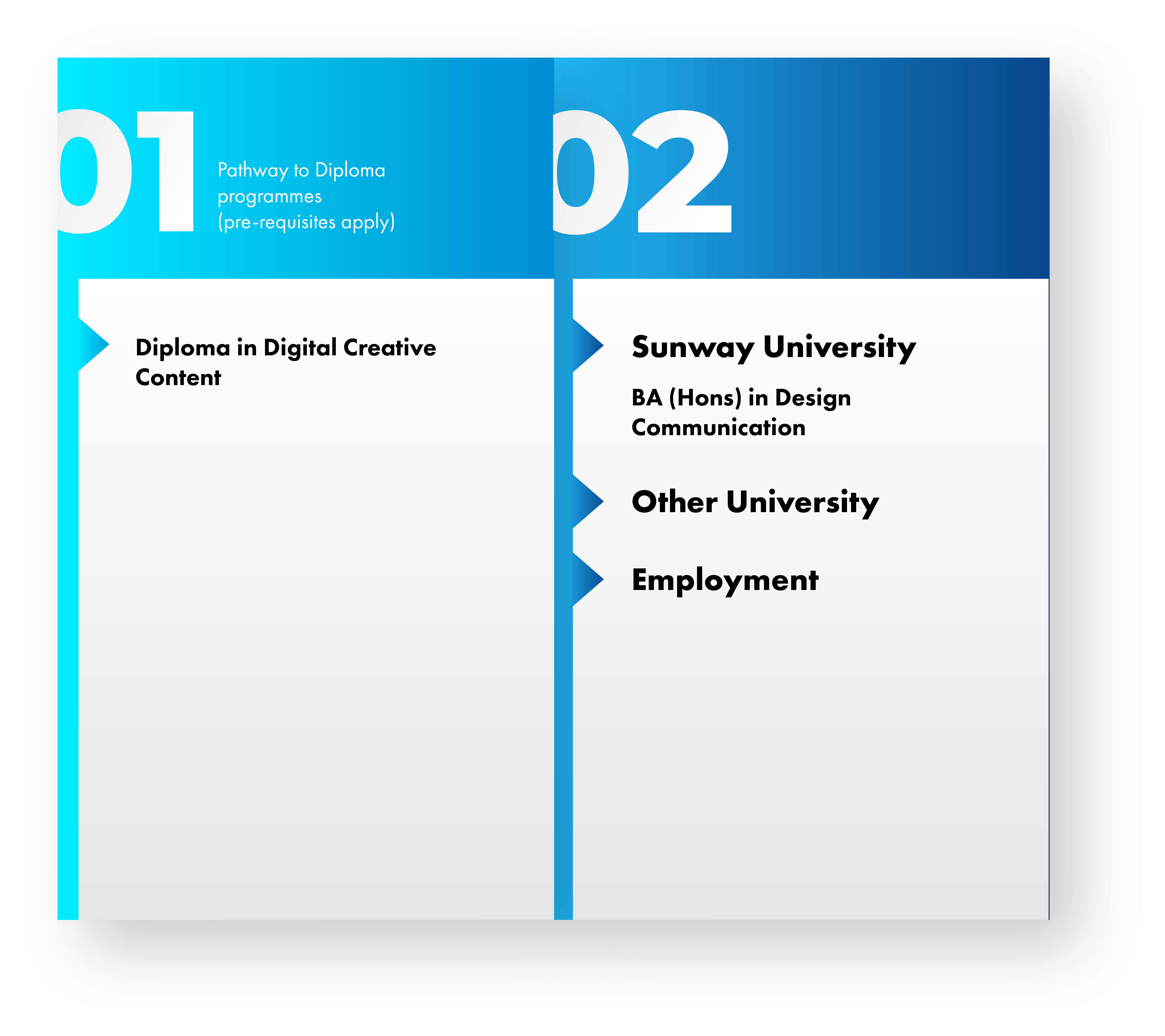 Career Opportunities
For graduates, DDCC unlocks many opportunities as they can anticipate attractive job offers and career growth upon completing this diploma programme.
Become a leading digital innovator as a:
Branding & Content Creator
Content Creator
Content Creator (Online Game)
Content Moderator
Content Writer
Graphic Designer & Content Creator

Marketing Cum Content Creator
Media Content Creator
Social Media Content Creator/ YouTube Content Creator
Video Content Creator
Video Creator/ Editor
Scholarship Scheme
Students who are interested in pursuing our Diploma Studies or degree programmes in Sunway College and are seeking financial aid can click here for more information.