Study with Sunway College German University Preparatory Course
High Quality

TEACHING

And Research

Top Class Degree Recognised

WORLDWIDE

No

TUITION FEES

TOP 10

Popular Study Destinations Worldwide
Overview
About German University Preparatory Course
Sunway College's German University Preparatory Course! This is your prerequisite pathway to pursuing your bachelor's degree at world-renowned universities in Germany. Students are more than welcome to sign up for this course! In collaboration with our reputable and experienced German partner, Carl Duisberg Centren, we help students prepare for the cultural change while providing them with placements in universities across Germany.
Progression Pathway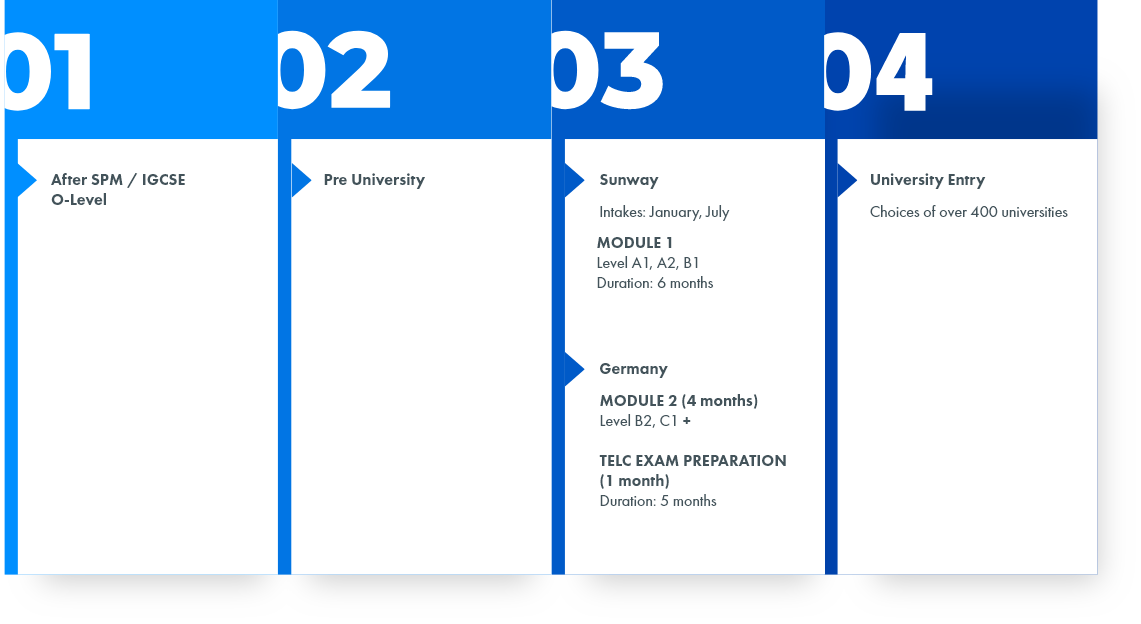 Entry Requirements Into German Universities
Pre-U Programme
Overall Score/Grade*
Recommended Subjects
Australian Matriculation (AUSMAT)
At least ATAR 80

Mathematics Methods
1 Science subject - Physics, Chemistry, Human Biology

A-Level
At least 3 Cs for subjects at A-Level
History, Economics, Mathematics, Biology, Chemistry, Physics

International Baccalaureate (IB)

At least Grade 4

2 languages on Level A or B
Sijil Tinggi Persekolahan Malaysia (STPM)
At least 3 C grades
To take subjects that are relevant to major
*Entry requirements for competitive courses i.e. Medicine, Dentistry, Pharmacy, Psychology, Law are very high
Do check with education counsellors for more information
Support Services
Sunway

Transfer to Germany
Visa application
Certification at German embassy

Germany (Supported by Carl Duisberg Centren)

LANGUAGE MODULE 2

More than 60 years of experience
Extensive educational counselling and personal mentoring
Intercultural preparation

UNIVERSITY ENTRY PREPARATION

Placement at universities across Germany
Placement in internships at German companies
Why Carl Duisberg?
More than 60 years of experience
Extensive educational counselling and personal mentoring
Intercultural preparation

Placement at universities across Germany
Placement in internships at German companies