JPT/BPP(K)(N/481/4/0818/FA11687)09/24
Achievements
INDUSTRY

related software

 

WIDE RANGE

of programming languages

Strong

ALLIANCE

and partnerships

HANDS-ON

projects
Overview
DCSI
The Diploma in Computer Science (DCSI) is specifically formulated to equip students with knowledge, technical skills and personal qualities for a career in the explorative field of Data Science. 
DCSI helps students to develop data science focused knowledge in programming, mathematics and statistics, databases, data modelling, data visualisation, data analytics, business management and marketing, and software implementation.
DCSI
Programme Details
| | |
| --- | --- |
| Intakes | January, April and August |
| Duration | 2 Years |
| Assessments & Examinations | 60% coursework & 40% final examination |
Entry Requirements
Pre-existing qualification
Grade
SPM / O-Level
Pass with min. 3 credits (including Mathematics)
UEC 
Pass with min. 3 Bs (including Mathematics)
Other Equivalent Qualifications

Pass in any qualification equivalent to Certificate (Level 3, MQF)
Must be accredited by MQA

English Language Requirement

*For International Students only

IELTS - Minimum Band 5.0 OR equivalent
Choice Of Subject
Year 1
Students will learn the following subjects in the first year

Programming for Data Science
Fundamentals of Information System
Programming Concepts & Problem Solving
System Analysis & Design
Database Fundamental I
Fundamentals of Operating Systems

Data Communication & Networking
Discrete Mathematics
Probability & Statistics
Basic Linear Algebra
Introduction to Business
Principles of Management
English for Information Technology
Year 2
Students will learn the following subjects in the second year

Big Data Analytics
Data Visualization
Digital Marketing
Computer System Architecture
Database Fundamental II
Network Administration & Security
Principles of Marketing

Elementary Calculus
Mathematics Logic & Theory Set
English for Business Communication
IT Project I
IT Project II
Internship
MOHE General Studies
Students must pass these MOHE General Studies

For Local Students

Appreciation of Ethics and Civilisation
Bahasa Kebangsaan A (applicable to students who did not sit for SPM or did not obtain a Credit in SPM Bahasa Melayu) OR Creativity and Innovative Thinking Skills (for students who have a Credit in SPM Bahasa Melayu)
Community Service
Moral Education OR Islamic Studies OR Education for Sustainability Development

For International Students

Bahasa Melayu Komunikasi
Creativity & Innovative Thinking Skills
Community Service
Moral Education
Education for Sustainability Development
Progression Pathway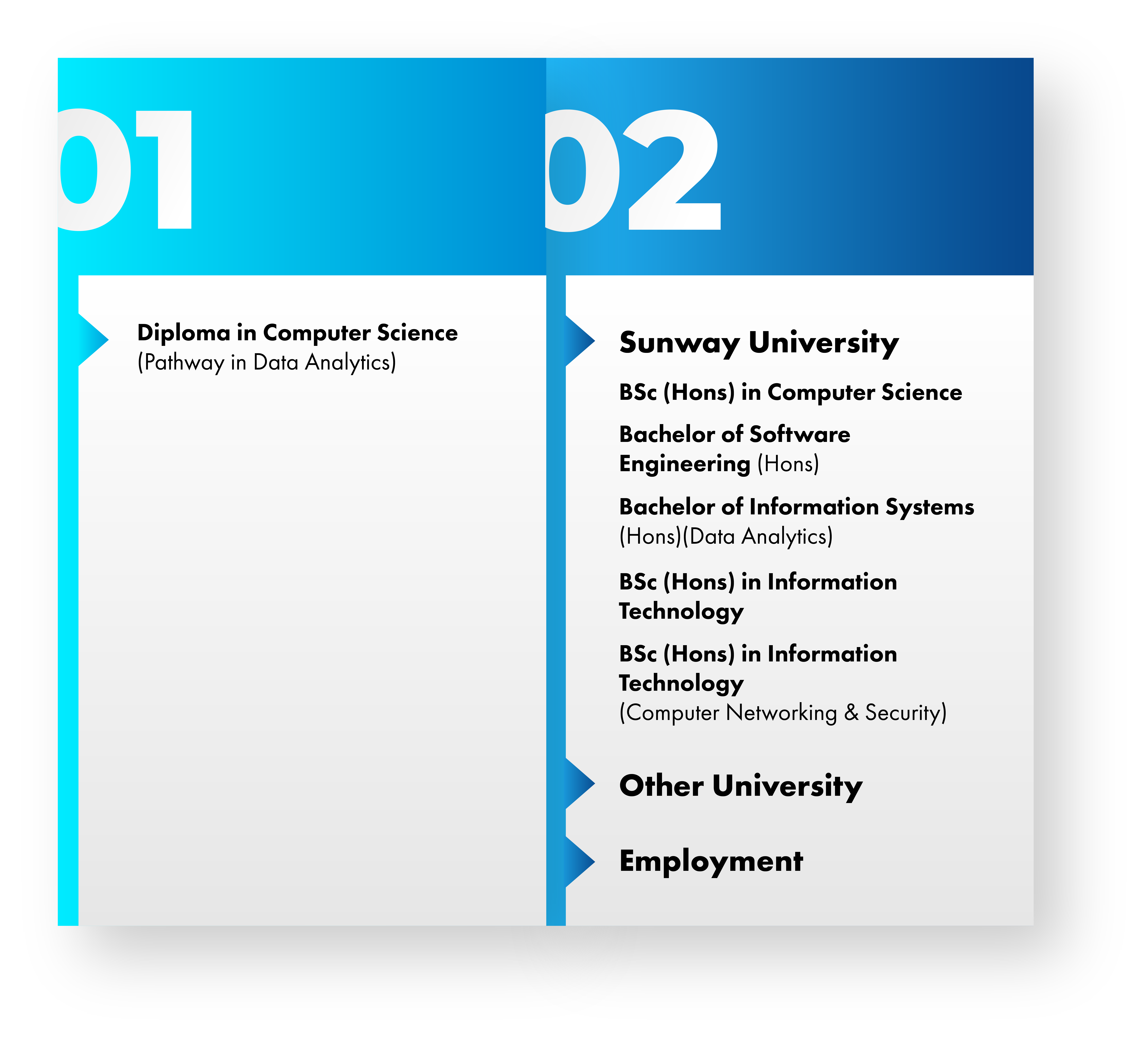 Career Opportunities
DCSI sets you on the path to becoming a computing professional in the diversified fields of data science, computer science, software engineering, cybersecurity, ICT and more. Upon completion of this programme, graduates can expect excellent job offers, good starting salaries, and opportunities to scale the career ladder.

Become a highly sought after professional in various industries as a:
Business Analyst
Data Analyst
Data Engineer
Data Modeller
Database Administrator

Analyst Programmer
IT Support Personnel
Software Designer / Engineer
System Analyst
System Designer / Engineer
Scholarship Scheme
Students who are interested in pursuing our Diploma Studies or degree programmes in Sunway College and are seeking financial aid can click here for more information.