16 December 2022
Trail-blazer Natalie Loi wins Young Entrepreneur Award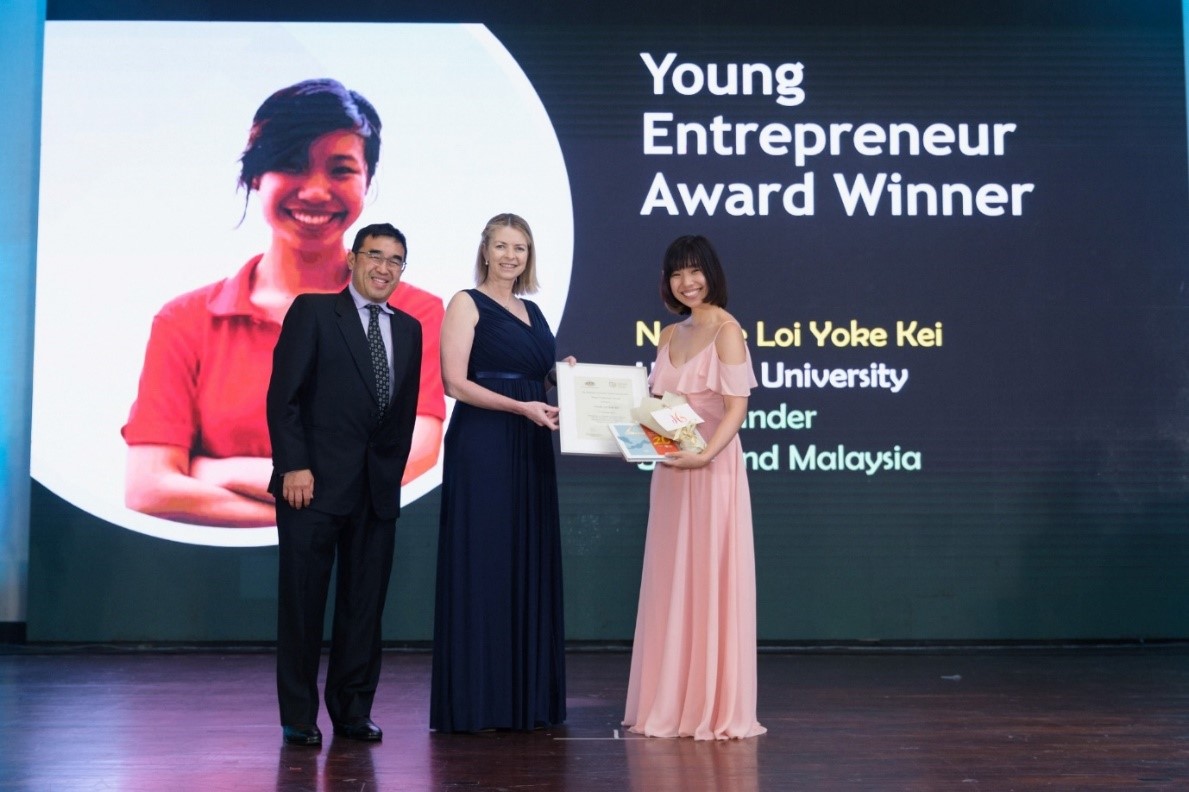 VU Sunway is very proud to celebrate the success of our graduate, Natalie Loi Yoke Kei on being the chosen award winner of the Young Entrepreneur Award at the 2022 Australia Alumni Awards presented by the Malaysian Australian Alumni Council – The MAAC together with the Australian High Commission. Natalie received her award at the Australian Alumni Gala Dinner held at the JW Marriott Hotel Kuala Lumpur.
Natalie is a 23-year-old technopreneur who graduated from Victoria University under the Jeffrey Cheah Foundation Scholarship. She started the company - UnBound in 2017 at the young age of 19 to encourage fun education among students through an Augmented Reality (AR) game which relates to financial literacy.
What makes this journey extraordinary was that the genesis of the AR game began in the classroom as part of the Business Challenge Units (subjects) that all VU Business students undertake as part of their course of study. The concept was developed as Natalie and her team's initial assignment in the International Business Challenge Unit in their first year. They created a self-coded mobile app as business students despite none of them having any IT background. In their second year, they further developed new features using Pokémon Go as their inspiration. They launched their AR game prototype with 10,000+ users amongst Sunway College and Taylor's University students. It became a huge success. This led to a business venture with Celcom. Natalie and her business partner went on to start their own company UnBound Malaysia.
Since its inception, UnBound Malaysia has grown exponentially with 200,000 users of its educational system which is now used internationally by various universities including renowned overseas universities such as University of Edinburg in UK. UnBound has also partnered with several multinational companies such as Cadbury, Celcom, FWD Takaful as well as the Central Bank of Malaysia. UnBound's future plans include an expansion into retail and tourism sector supported by the Ministry of Education and China state government which will be operating in the Europe and Oceania region.
Needless to say, Natalie has made her presence in the e-education scene in a relatively short period of time. Natalie was also featured in 2022 Encyclopedia of Successful People by the British Publishing Group and was an invited speaker at numerous universities on entrepreneurship. Her humility, leadership, passion, dynamism and determination in everything she does and strives to do is truly an inspiration. Keep reaching for the blazing sky, Natalie!
Your pathway to a brighter future starts here!
Explore the wonders of Sunway College and experience what it means to belong to an elite circle of industry leaders.